BTA's Christmas party last night was a delicious success. If I'd known Shad's wife was such a good cook, I'd have stolen her away from him a long time ago.
My camera didn't see much action because I was a tad on the drunk side, but here are a few that I did manage to take:

Zander with his lovely family
Britt tolerating me
Kevin and Zander are getting ho-ho-hongry for some eats! Get it?
I don't know what it's called when you dump good food all over the table but I do know that it was FANTASTIC.
Seriously, it was probably the best shrimp I've ever had…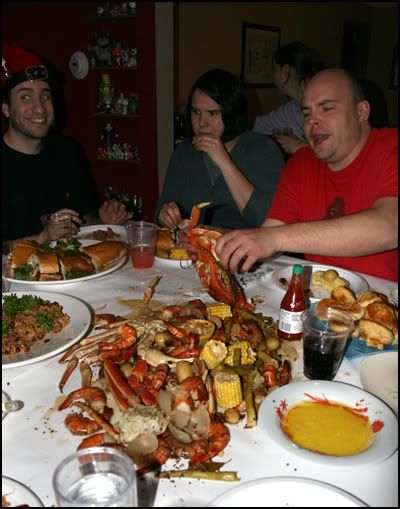 Lastly, here's Tim mourning the death of a good crab
Hopefully, Shad will post more later because I'm pretty sure he took better photos than this. Anyway, thanks to Anna for making a fabulous dinner and letting us mess up your house!